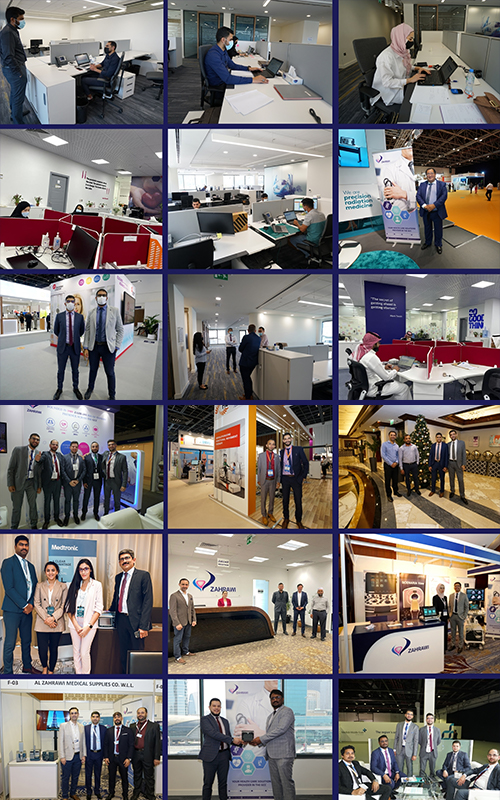 Zahrawi A Passion For A Better Healthcare Solutions
Within the growing GCC Healthcare Industry, Zahrawi Group is a leading company dedicated to contribute to the UAE, KSA, Qatar, Bahrain and Oman markets by supplying high-quality products and services to hospitals, clinics, laboratories and analytical industries.
We take pride in our representation that includes an extensive profile of internationally renowned Healthcare and Laboratory manufacturers, such as Medtronic, Agilent Technologies, Dako, Sakura, BD, Sysmex, Cepheid, Hitachi, Sebia and many others. Thanks to our trained engineers, we respond to our customers' needs in a manner that meets their requirements and deliver the products and services on time with a reliable after-sales support.
Capitalizing on excellent staff with high ethics, along with strong operation support platform, we continue to have sustainable growth year over year. In 2021, we achieved Dhs 694 Million in revenues. By 2024, we are looking forward to reach the SAR 1 Billion milestone as per our growth plan.
Zahrawi Group is continuously expanding, progressing and contributing to the prosperity of the people and economy of the region.
Our Core Values
Our values are a foundation for our leadership.
How we work is just as important as the work we do. That is why we make sure to maintain trust and transparency with all our stakeholders while demonstrating the highest level of competence and taking responsibility for our actions.