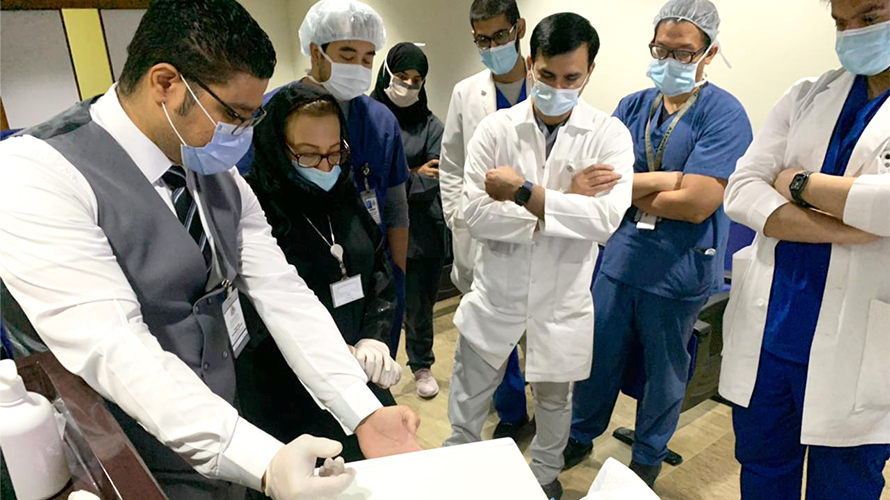 Boston Scientific installation at King Fahad National Guard Hospital, KSA
In March 2021, our Saudi Arabia Structural Heart and Neuromodulation unit has successfully completed the launch of the Boston Scientific G4 Radio Frequency Generator at King Fahad National Guard Hospital in Riyadh.
Following the installation, our team performed a hands-on workshop for the doctors using the G4 Radio Frequency Generator. Built on a legacy of innovation, the G4 RF Generator gives the neurosurgeons the ability to choose the best Spinal treatment for their patients. Whereas anesthesia consultants can use it in pain management clinics as well.
The G4 Radio Frequency Generator allows implementing various pain relief therapies such as: Knee and Hip, Facet Joint, Sacroiliac Joint, Trigeminal, Parkinson's Disease, Cancer Pain, Discogenic pain. It also has various modes of action, with mainly Thermal Ablation and Pulsed Radio Frequency, permitting superior edge on various treatments to be performed safely, time efficiently and with minimally invasive therapies outside the OR.
The G4 RF ablation is 80% effective for patients with successful nerve block and it is a better alternative to pain relief medications as treatment results can last up to 1.5 years.
Overall, this project was a great accomplishment, and the hospital staff found the hands-on workshop well-structured, comprehensive, rich in content and useful.