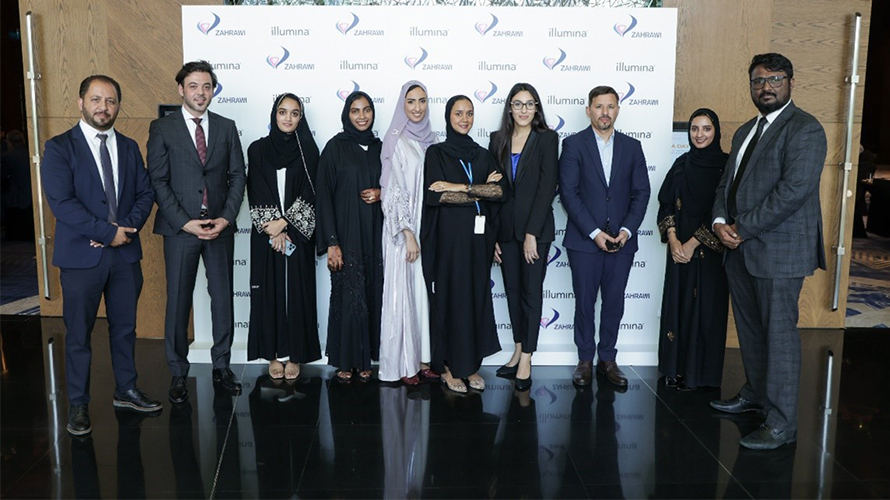 Illumina Day
Zahrawi Group Laboratory team in Oman and our partner Illumina hosted the Illumina Day on Sunday 19th June 2022 that had for theme "Unlocking the power of the genome to improve human health".
The event took place at the W hotel in Muscat and welcomed more than 60 attendees including the Director of Central Public Health Laboratory, Doctors and laboratory technicians from renown hospitals such as Royal Hospital, National Genetic Center, Sultan Qaboos University Hospital, Sultan Qaboos Comprehensive Cancer Research Center and Central Public Health Laboratory.
The scientific program included presentations from Illumina team who tackled topics such as Genomics Surveillance for COVID-19 and Beyond, Enabling Precision Oncology through Genomics, How Genomics Can Improve Patient Care? Partnering with Illumina to facilitate Patients Access to unlock the power of Genome. Moreover, we had the honor of having Dr. Fahad Al Zadjali, Assistant Dean of Scientific Research SQU who presented an overview about Genomic research in Oman and Dr. Maryam Al Shehhi Consultant Clinical Geneticist from The Royal Hospital who spoke about Precision Medicine in Pediatrics: Examples of Omani Cases Solved by Whole Genome Sequencing.
Overall, this event was an opportunity for Zahrawi Group, Illumina and the speakers to share their insights on the intersection of genomics and clinical practice with a diverse audience of policy makers, researchers, and healthcare professionals.
Congratulations to Oman Laboratory team for an extremely interactive and informative day!