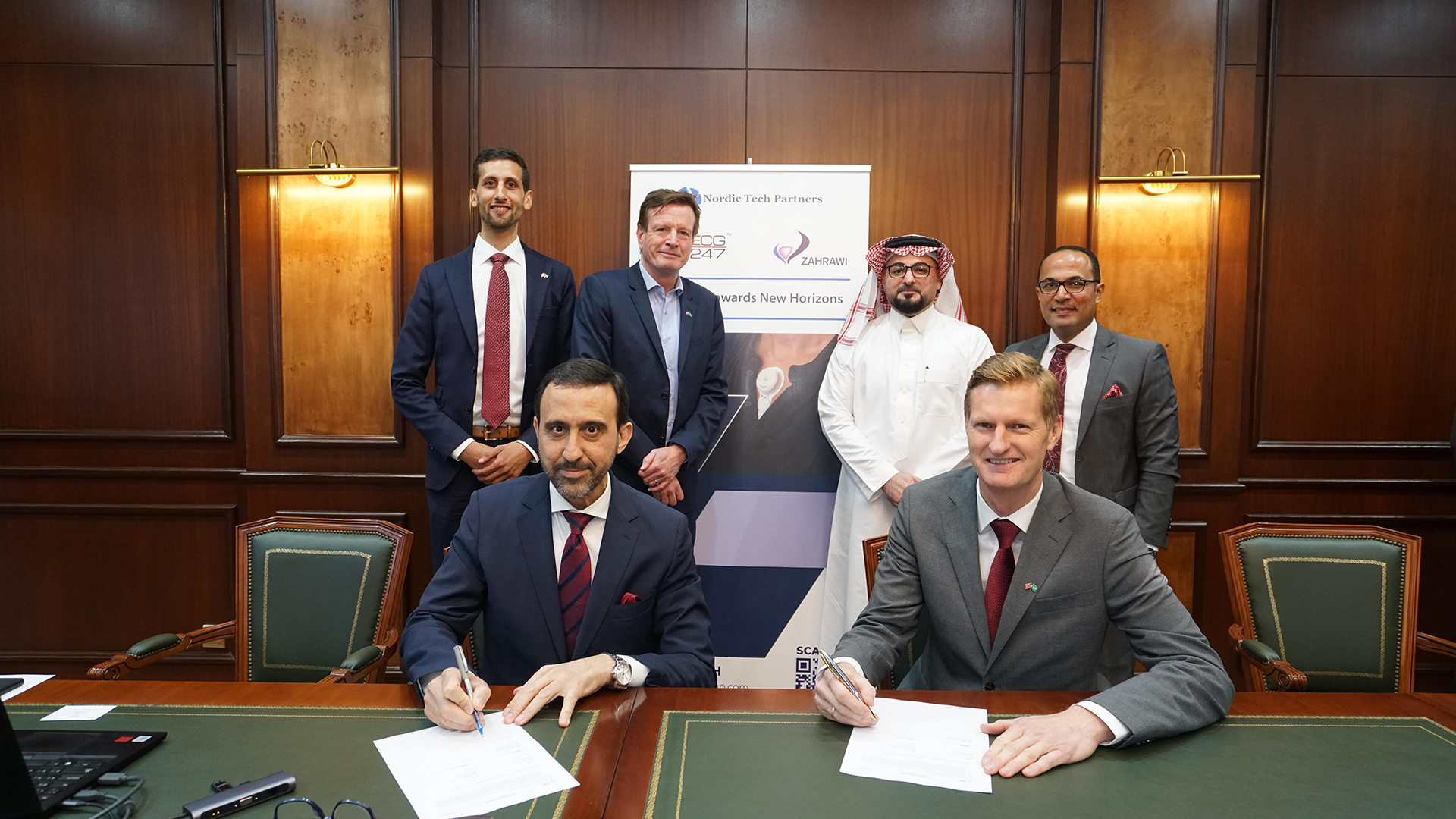 Zahrawi Group Partners with AppSens in Saudi Arabia
http://https://youtu.be/7M0LtqULD_cZahrawi Group is pleased to announce its new partnership with AppSens, a Norwegian company, for the distribution of their innovative cardiac solution, ECG247, in the Kingdom of Saudi Arabia. ECG247 is a medically certified sensor designed for continuous long-term monitoring of heart rhythm, facilitating the assessment of heart rhythm disorders.
The signing ceremony for this momentous partnership took place at the Zahrawi Group office in Riyadh. Present at the event were Mr. Abdulrahman Ramadan, CEO of Zahrawi Group, Mr. Majed AlThanon, CEO of ReAya Holding, His Excellency the Ambassador of Norway in Riyadh, Mr. Thomas Lid Ball, Mr. Tord Ytterdahl, CEO of AppSens AS and Mr. Mahmoud Alnajjar, CEO of Nordic Tech Partners.
Speaking about the collaboration, Mr. Abdulrahman Ramadan expressed his enthusiasm, stating, "We are delighted to partner with AppSens and introduce their cutting-edge cardiac solution, ECG247, to the Saudi market. This partnership aligns with our commitment to delivering innovative healthcare solutions that enhance patient care. By combining Zahrawi Group's extensive network and expertise in the healthcare sector with AppSens' state-of-the-art technology, we aim to provide advanced cardiac monitoring solutions that improve patient outcomes."
The partnership between Zahrawi Group and AppSens marks an important milestone in the advancement of healthcare in Saudi Arabia that aligns with vision 2030 healthcare transformational plans of the Kingdom of Saudi Arabia. Through the distribution of ECG247, a revolutionary cardiac monitoring sensor, both companies aim to address the growing need for continuous, long-term heart rhythm assessment in the country.
Mr. Mahmoud Alnajjar, CEO of Nordic Tech Partners, expressed his support for the collaboration, stating, "Nordic Tech Partners is dedicated to bringing the latest innovations in the Medtech sector to Saudi Arabia. This partnership represents a significant stride towards realizing our goal in Vision 2030 of creating a healthier future."
AppSens is thrilled to enter the Saudi health market through this partnership with Zahrawi Group. The support of Nordic Tech Partners and the reputable partnership with Zahrawi Group positions AppSens for important advancements in the industry. Mr. Tord Ytterdahl, CEO of AppSens, stated, "Appsens with its ECG247 is a Norwegian MedTech company with global ambitions. Entering the Saudi-Arabian health market together with highly reputable partner Zahrawi Group and supportive Nordic Tech Partners represents important steps forward for the company."
Zahrawi Group and AppSens partnership sets the stage for ground-breaking advancements in cardiac monitoring technology in Saudi Arabia Together, they will strive to improve patient care and contribute to a healthier future for the nation.