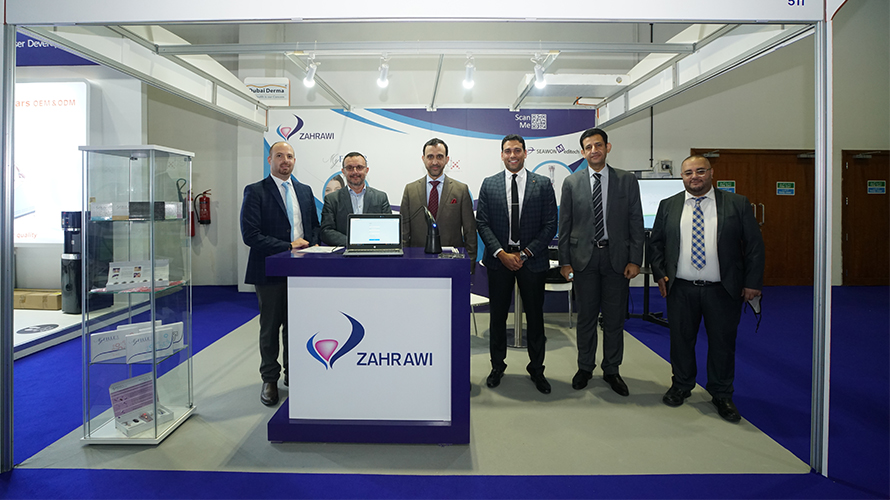 Zahrawi Group First Participation in Dubai Derma 2022
For the first time Zahrawi Group Medical Equipment Unit was present at the Dubai Derma 2022 that was held during the month of February in Dubai, United Arab Emirates.
Dubai Derma has emerged as the largest scientific skincare gathering in the Middle East, North Africa & the Indian Subcontinent region, bringing together the skincare specialists, industry leaders, and key decision-makers from the region and across the world. The 22nd edition year's edition welcomed around 14,500 visitors, with more than 500 Exhibiting Brands and over 200 speakers who came together to create a very enriching and enjoyable conference.
Our Medical Equipment Unit grasped this great opportunity to showcase the products from our partners MyFiller, MedX and SeaWon Meditech. MyFiller has different product lines, the first one is a special line of monophasic cross-linked and non-cross linked hyaluronic acid dermal fillers with different products like Glips, HA Pen Refill, Man Max, Trio Technology, Soft, Medium, Strong. The second product range is Revitalize and it is a complete line of professional mesotherapy serums including products such as Revitalize Booster, Revitalize Pure, Revitalize Vitamins, Revitalize Body, Revitalize White Skin, Revitalize Hair and Revitalize Pen.
MedX is the leader in teledermatology with their Class II A MedX's SIAscope, that takes 5 images, including 4 spectrophotometric images 2 mm below the skin's surface showing the disorganization of a suspicious mole or lesion, allowing dermatologists to make a more accurate assessment based on the underlying physiology of the skin. MedX is the only technology in the world that can present this additional critical imaging.
Seawon Meditech Autologous Platelet Rich Plasma Kit (SW-PRP) is a medical device which is made for collecting and separating PRP (Platelet-Rich Plasma) from blood. It is composed of a container, hose assembly and is able to use with centrifuge, 20ml syringe.
Overall, our first participation in Dubai Derma was very successful and allowed us to introduce our newly acquired solutions to the market.