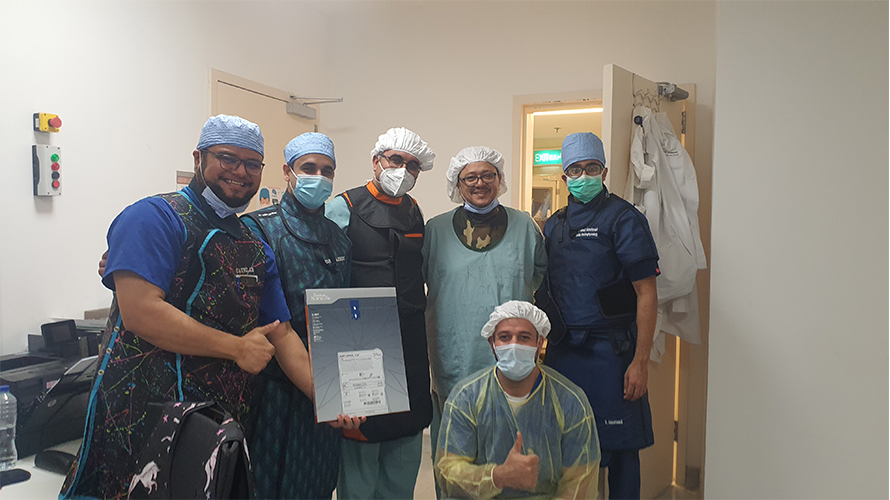 Boston Scientific, Watchman FLX Device, National Guard Health Affairs, Jeddah, KSA
We are proud to announce that our Structural Heart & Neuromodulation unit in KSA has successfully implanted a Watchman FLX device from our partner Boston Scientific at National Guard Health Affairs Jeddah (King Faisal Cardiac Center), where Dr. Abdullah Alsaeidi, Dr. Wail Alkashkari, Dr. Fahad Almehmadi and the Cath lab team operated on a 60-years+ old patient with repeated bleeding events and who is already undergoing renal dialysis and suffering from Atrial Fibrillation.
The new generation of Watchman devices called Watchman FLX has a safer and better ability to close the Left Atrial Appendage, making it the best solution in the market. WATCHMAN procedure is a one time, minimally invasive procedure performed in Cath lab in typically 1 hour to close the left atrial appendage of the heart for patients with atrial fibrillation. Watchman procedure would permanently reduce by 90% the stroke risk without the worries that come with lifetime dependency on blood thinners. For some people, that means an extra measure of safety if they have bleeding due to certain medical conditions. Following the WATCHMAN procedure, the patient typically stays in hospital for one day. Patients who undergo the WATCHMAN procedure typically stay for one day at the hospital.
Congratulations to our KSA Structural Heart & Neuromodulation unit for this achievement!