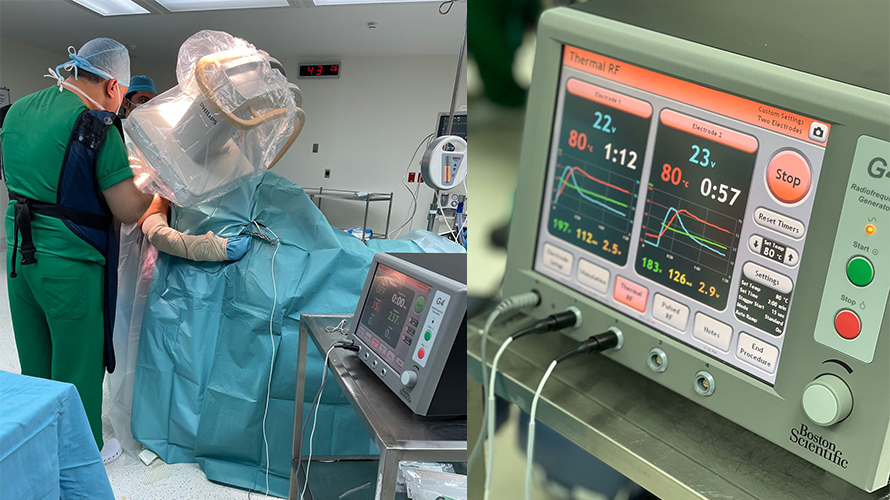 Boston Scientific RF Ablation Almana General Hospital, Dammam
We are proud to announce that our Structural Heart and Neuromodulation Unit in Saudi Arabia supported the first Radiofrequency Ablation procedure in Dammam using the G4™ RF Generator from our partner Boston Scientific along with Sidekick™ Cannula on a genicular nerve (Knee) ablation and Unified Cannula on a shoulder ablation for pain management. The procedure took place at Almana General Hospital, Dammam, with Dr. Abdullah AlZahrani and his talented team!
Radiofrequency Ablation (RFA) uses radio waves to create a current that heats a small area of nerve tissue. The heat destroys that nerve area, stopping it from transmitting pain signals to your brain. The Boston Scientific G4 Radio Frequency generator has two modes of action: Thermal Ablation and Pulsed Radiofrequency, which can be used based on the pain location and the doctor's preference. It is indicated for use in procedures to create heat or pulsing sensation on the targeted nerve tissues to stop the nerve from transferring pain signals, thus providing lasting pain relief for patients with chronic pain from 1 to 2 years. This procedure can be performed on various body parts such as knees, hips, back & etc.
Overall, this procedure is minimally invasive, safe, and time-efficient, making it a better alternative to pain medication.
Congratulations to our Structural Heart and Neuromodulation team for this great achievement!